If you are trying to find a printing solution which can help you save costs while pausing and executing print jobs and limiting undesired printing activities, OP is a solution for you. OP, desktop and cloud printing solution developed by Fitosoft, is frequently used in many educational institution such as universities, schools, colleges, and libraries, and this tool is growing in demand today.
When using OP, printing costs can be reduced significantly. This allows for the maximum management of printing resources as it can minimize the use of ink and paper that is wasted in incorrect printing.
OP has a great feature called Print Release Station so educational institutions can significantly cut the cost of printing materials.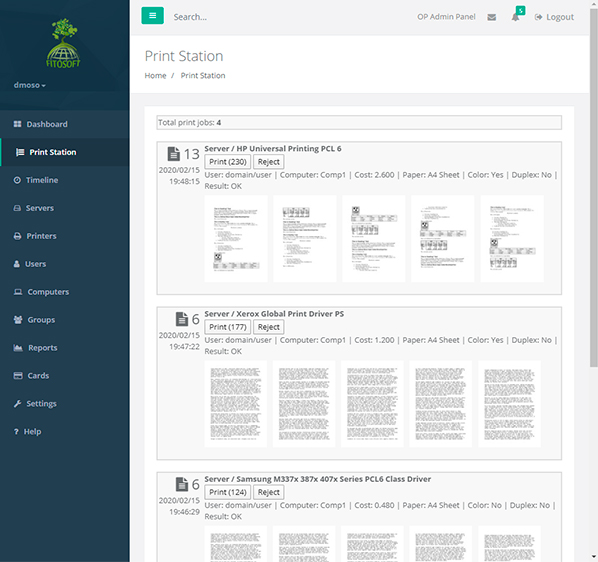 Such a feature can pause the print tasks until released manually or automatically by administrator. The Administrator can also monitor the print jobs sent and make a decision which jobs are appropriate to print. The administrator can also cancel or even resume the print tasks.
In any institutions or organization, no matter how large or small, the use of printing materials each day might mount up rapidly. If controlled improperly, it can be uncontrollable. For this reason it is quite important to make savings on printing materials by reducing unnecessary costs and minimizing accidental printing, so you can completely focus to allocate costs on other area that might be priority.
Consider the ink you can save, along with the huge amounts of paper that mount up rapidly when unnecessary things are printed. This is the reason to use OP Print Release Station for your daily printing activities.
This tool is also recommended public libraries in which bulk amounts of printing jobs occur every day. Since it is extremely hard for library staff to monitor each document which is sent to the several printers, it is now essential to make use of a printing solution which can reduce the waste of ink and bulk amounts of paper.
OP Fitosoft offers simple-to-use print management tool that enables you to control and monitor all printing jobs, control who are allowed to print, how much printing jobs are allowed, and minimize the use of printing materials in your organization.